The more qualified prospects you can identify, the easier your entire sales process will become.
There are a variety of powerful prospecting tools that can help with different areas of your prospecting process. We're going to look at some of the best that can help with tasks ranging from quickly identifying key decision-makers, to finding their verified email addresses. By the end, you'll be able to build your prospect list more quickly, and more effectively.
Let's dive in.
Outbound prospecting tools help you identify qualified prospects that are a perfect fit for your product or service.
Different tools will have different benefits. Some will focus on helping you identify good-fit accounts. Others will be designed to help you find email addresses. Each type of tool can fit in a different part of your process and help you improve the way you manage it.
Send cold emails and automatically follow-up to have more conversations with qualified prospects, and always land in the main inbox thanks to powerful deliverability tools.
QuickMail helps you improve your outbound prospecting using personalized cold email.
Rather than relying on generic prospecting email templates, you can personalize every email you send thanks to attributes. You can add custom content to every email you send, even if you're sending a high-volume campaign.
If a prospect doesn't reply, you can automatically follow up with another personalized email to them. Our data shows that 55% of replies to cold email campaigns come from a follow-up, so this is an essential step in any successful email prospecting campaign.
Simply set your delay, write your follow-up, and your emails will send to any prospect that doesn't reply to your first email.
To ensure your emails always land in your prospect's inbox, QuickMail has a native integration with MailFlow, a free email warm-up tool.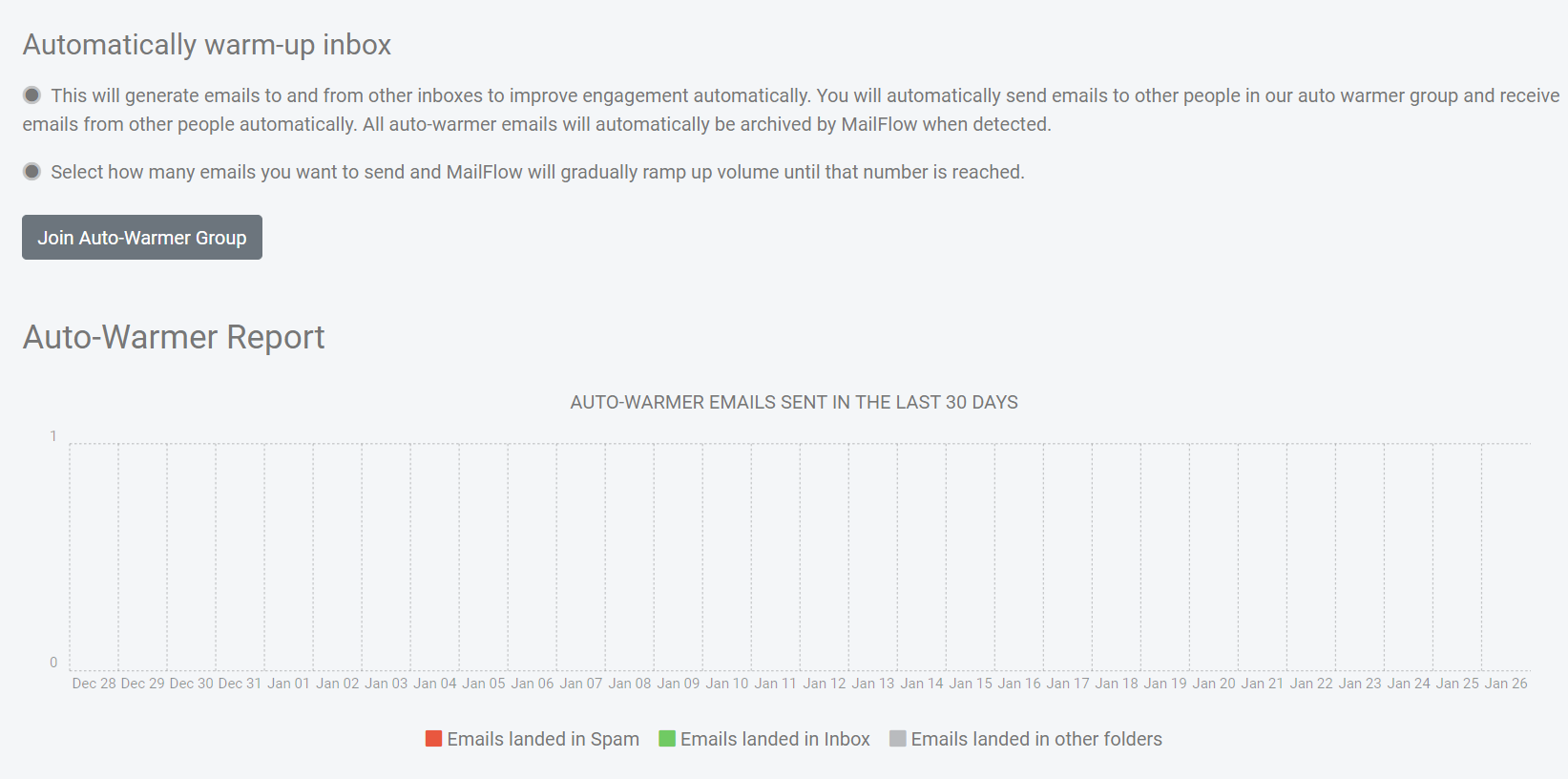 MailFlow's Auto Warmer will generate positive engagement in your email inbox to show email service providers that you're a trustworthy sender, and the deliverability reports will help you understand how well your cold email inboxes are performing in terms of deliverability.
Pricing: From $49 per month, 14-day free trial.
Key features:
Send personalized cold emails to your prospects that start conversations

Automatically follow up with any prospect that doesn't reply to boost response rates

Track your results in an easy-to-understand dashboard

Native integrations with CRMs and Zapier to connect it with your other prospecting tools
Quickly identify qualified prospects based on demographic, firmographic, and technographic data and see their verified contact information.
UpLead is a B2B data platform that's ideal for anyone that needs to regularly build prospect lists. The platform includes hundreds of contact records that you can filter through using 50+ search filters so you can narrow your prospecting down and only see the most relevant prospects.
The database also includes contact details that are sourced from public web pages. These are verified by UpLead's verification system, but it's always worth running these email addresses through an email verification tool to ensure they're correct, as databases like UpLead's typically decay year-over-year.
Once you have your prospect list, you can download a list into a CSV and use that in your cold outreach.
Pricing: From $74 per month
Pros:
Easily build lists of prospects who match particular criteria that you care about

See every key detail you need, including job titles, company size, revenue, and more

Save and export prospects to a spreadsheet to use in other outreach tools
Cons:
B2B databases decay by approximately 20-30% per year, and UpLead isn't immune to that issue. Always verify that contact details are correct before reaching out

Credit-based pricing means you can exhaust your limits quickly
Prospecting platform with a B2B database, intent data monitoring, and conversational intelligence.
ZoomInfo is like UpLead's older sibling. It's one of the leading outbound and sales prospecting platforms and is full of powerful features to help you identify prospects that are an excellent fit for your business, and engage with them.
Firstly, there's a B2B database that you can search through and create lead lists from. On top of that, you have an intent data platform. This lets you track intent signals on target accounts to help you reach out to your prospects at the best possible time. For example, if you see a decision-maker actively researching a competitor, you know it's time to reach out.
There's also an on-site visitor tracking tool that you add to your website, and it'll notify you when your prospects are visiting your website. This helps you gather information about what they care about – are they viewing feature pages, pricing, or reading your blog posts? – and personalize your approach more effectively.
It's a powerful outbound prospecting tool, but expect to pay a five-figure contract for access depending on your needs.
Pricing: Available upon request
Pros:
Powerful tools to help you identify prospects and engage with them at the right time

ZoomInfo regularly add new features to their platform

Integrations with most other sales engagement tools
Cons:
One of the most expensive prospecting solutions on the market

Users on G2 highlight that onboarding can take time because there's a lot to the product
Upgrade your LinkedIn experience with powerful prospecting features to identify and save prospects.
LinkedIn Sales Navigator is an essential tool for outbound prospecting. It adds extra features to your existing LinkedIn account including more granular search filters, the ability to build and save prospect lists, and increases your InMail sending limit.
This is going to remove the manual tasks like saving leads from your usual LinkedIn prospecting process and help you identify more qualified prospects in less time.
One particularly useful part of Sales Navigator is the company monitoring and alerts tool. You add your target companies to a list and get notifications whenever something happens at that company. For example, if they hire a new CMO or open multiple new roles at the same time. You can keep track of prospects and use that data to personalize your outreach and engage with them at the perfect time.
Pricing: From $99.99 per month per user
Pros:
Extensive list of search filters to identify the perfect prospects and companies

Alerts to spot key changes at companies

Suggests prospects similar to prospects you've searched for to speed up your prospecting process
Cons:
Need to pay per user

Some limitations in terms of integrations a LinkedIn wants you to spend time on the platform

No email addresses provided
LinkedIn automation and outbound prospecting software to help you scale your prospecting process and automate repetitive tasks usually required on LinkedIn.
Zopto is a LinkedIn outreach automation tool. Once you have your LinkedIn Sales Navigator account, you can use Zopto to start reaching out to those prospect lists at scale.
LinkedIn is notorious for banning people using automation, so we'd always recommend proceeding with caution. However, Zopto users report that because it's cloud-based it has good success rates, as long as you stay within the recommended limits.
You can use the messaging system to run multiple campaigns targeted at each of your prospect segments, and track your metrics like reply rate and message open rates.
It's an effective platform to improve how you use LinkedIn for your prospecting and engagement with leads.
Pricing: $160 per month per account
Pros:
Automatically view profiles and connect with prospects

Send scheduled outreach message campaigns on LinkedIn

A/B test messages to find top-performing value propositions and templates
Cons:
Risks of LinkedIn restricting your account – but this applies to all LinkedIn automation tools

Relatively expensive if you have multiple sales reps running prospecting campaigns
Verify your prospect email addresses before reaching out to them and risking high bounce rates.
During your prospecting process, you'll export contact lists from tools like ZoomInfo and eventually have a list of several hundred (or more) email addresses.
But, the problem is that databases decay, and not all of these email addresses will be valid. When you reach out with a cold email, you'll see a high bounce rate which will hurt your email deliverability.
NeverBounce is an email verification tool that will run inbox checks on every email in your list and verify if it's valid. If it's not valid, it'll flag the reason and remove the contact from your email list. You'll reduce your bounce rate and won't risk your inbox being flagged for sending too many emails to invalid addresses.
You can also verify your email addresses directly inside QuickMail thanks to the integration with NeverBounce (as well as similar tools like Dropcontact and ZeroBounce).
Pricing: $0.008 per email verified
Pros:
99.9% accuracy at removing bounced emails

Direct integration with QuickMail to automatically verify prospect emails before sending an email campaign

Simple result codes make it easy to understand the status of each email (e.g, Valid, Invalid, Unknown).
Cons:
Processing times for large lists can be long

Slightly more expensive than some competitors, but accuracy is high
7. Leadfeeder
Visitor IP tracking tool to notify you when key prospects or qualified accounts visit your website and engage with your content.
Leadfeeder is an on-site visitor IP tracking platform that shows you which companies are visiting your website, what pages they're visiting, and how often they visit your site.
This outbound prospecting software gives you valuable information about the type of prospects interested in your product or service and their decision-making process.
You can also use the data to assess how effective your other outbound campaigns are. For example, if you see one lead visit your pricing page just 24 hours after you sent them a cold email, you know they're showing interest and can make sure to follow up with them and address pricing in your conversation.
Pricing: From $79 per month
Pros:
Proactively reach out to qualified prospects that are visiting key pages on your website

Users on Capterra report that the data on leads isn't complete so you'll still need to manually research each one

Track the pages, time spent, and number of times each prospect visits your website
Cons:
You need inbound traffic to get the value from the tool

Doesn't work as effectively if your prospects are remote working out of their main office
Manage your pipeline of prospects from a CRM that lets you track deals, add notes to conversations, and reply to emails from the platform.
Every sales team needs a CRM to manage their prospecting activities. Pipedrive integrates with most other tools you'll use and offers a range of features that most sales teams will need.
You can build the CRM to match your pipeline stages and set up sales forecasting based on the deals in progress, so you can estimate your future pipeline and report back to keep your team focused on hitting targets.
You can link Pipedrive with your inbox, so once your prospects have replied, you can respond to them from Pipedrive, leave notes on the conversations for your team, and keep the deal moving.
One useful feature is the native integration with QuickMail. If you create a new prospect in QuickMail and reach out to them, the same prospect record will be updated in your Pipedrive account and you can send any data between the two platforms so you never risk having out-of-date information on a lead.
Pricing: From $14.90 per month per user
Pros:
Email integration so you can reply to prospects directly from your CRM

Native integration with QuickMail and two-way data sync

Customize your pipeline stages to match your sales process
Cons:
Not as powerful as a platform like Salesforce, but the price tag is more realistic for most companies
In Summary
These outbound prospecting tools will help you level up your day-to-day workflow and focus on what matters most: having conversations with qualified leads.
Most of the outbound and B2B prospecting tools we've looked at here are available to try for free. We'd recommend planning what you'll do with them, then running a free trial and seeing how they'll fit in with your processes and how they can help improve how you prospect.
When you're ready to start sending cold emails to prospects, you can start your free trial of QuickMail and see how many replies you get.